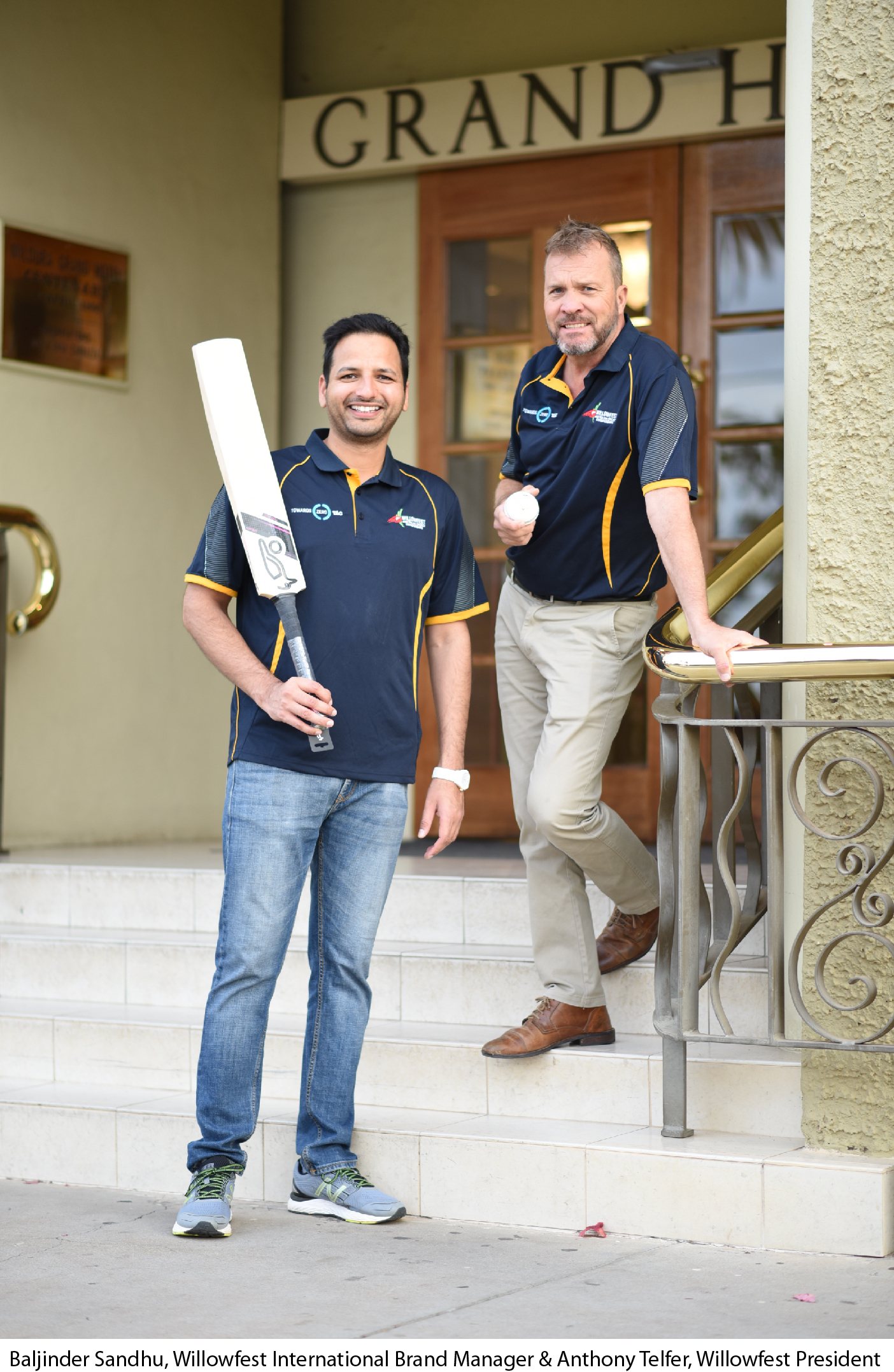 JUNIORS have now also been added to the Willowfest Australian Cricket Championships for their own world event.
Following last week's announcement of the Willowfest Veterans Championship taking place in Sunraysia in September, the World Junior (Under 16) Willowfest Cricket Championships have now been confirmed for December.
Eight positions will be available for the inaugural Championships taking place in Mildura from December 15 to 24 2019.
Teams are expected from India, Pakistan, Sri Lanka, the UAE, Singapore, New Zealand and South Africa. A team will be selected to represent Australia, which is likely to include some Sunraysia players.
Willowfest president, Anthony Telfer, PICTURED, said a junior event has been in the planning for about three years, especially after he and Willowfest International Brand Development Manager, Baljinder Sandhu, took the Willowfest brand overseas.
"A number of people had said they were happy to bring over senior teams but there isn't really anything for their juniors," he said.
"We knew there was a chance to tap into the junior market and try to develop something there.
"We have had expressions of interest from India, from an Academy in Pakistan and a private school in Sri Lanka.
"We've also had an expression of interest from Singapore Cricket Club, where a lot of expats are involved, and they would look at potentially bringing their juniors over, and then have the seniors play in the Championships with their sons staying as well.
"We are working closely with local cricket clubs. A schedule like this can put a lot of pressure on them, but the financial benefits that we can then put back into further developing facilities around Sunraysia could be massive."
Teams are set to play three 10-over matches, three T20 contests and four 50-over games.
Sandhu, who grew up in India with a passion for cricket and owns an online cricket equipment business, said networking and personal contacts had helped to spread the word of Willowfest overseas.
"Cricket is my passion and I've played since the age of four or five," he said.
"Since moving to Mildura from Melbourne in 2014 I've loved being involved in cricket in Sunraysia.
"Bringing young talent to Mildura would be fantastic. It would be great for them to experience Australian conditions, and the benefits locally are huge as well.
"It can help boost the local economy, through tourism, hospitality, retail and more. The more people that know about Mildura the better.
"We had a trial of the veterans tournament last year which had six teams, and this year we had 21 teams entered within three days.
"If it works well enough with eight teams, there's no reason we couldn't expand.
"The ICC has given approval to 106 countries to play T20 cricket, which means we could, in theory, try and approach over 100 different teams to be involved.
"With a brand name like Willowfest, it has been around for over 40 years and hopefully we can get it out there even more."
Willowfest's path to world domination may potentially include tours of India in the future.
By Mitch Rodd Journalist Mildura Weekly