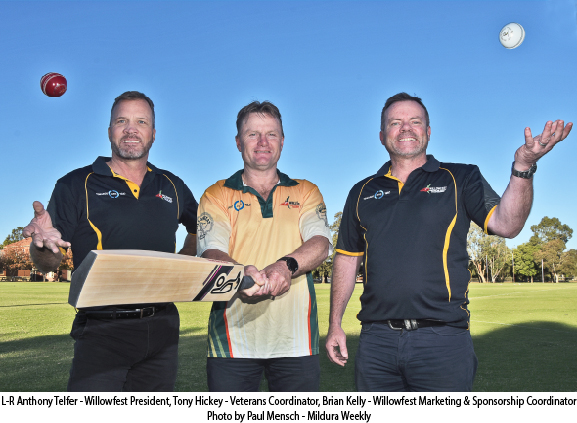 IT'S not only the young bucks who can now enjoy playing Willowfest cricket in Sunraysia.
Willowfest president, Anthony Telfer, PICTURED, announced this week the latest addition to the tournament's impressive CV, the Hoggies Estate Willowfest Veterans Cricket Championships.
The 'Vets' tournament will take place from September 21 to 26, between local football and cricket seasons, with Over 50, Over 60 and Over 70 divisions on offer.
When the memo was put out to interested parties late last week, it took just three days for 21 teams to be entered in the event.
Each team is set to play three or four matches of 40 overs per side.
Telfer said the timing of the Veterans Championships "couldn't be better" as State representative teams from NSW, ACT, Victoria and South Australia will even make an appearance as a precursor to the Australian Veterans Championships in November and will cap it at 24 teams.
"We have State teams coming here to get ready for the National Championships," he said.
"The Over 50's is the serious competition, they'll be playing for sheep stations, but the other grades are more about fun and the love of the game.
"We will have two Sunraysia teams competing in the Over 50's. Tony Hickey will be coordinating this."
"Veterans Cricket Victoria have also asked me if there was anyone from Sunraysia who might be at the level of representing Victoria. Obviously it's a bit hard to tell this far out, but they will come and cast an eye over our local teams for potential selection for the Nationals."
Regular Willowfest staples, including the Willowfest Whack and Express competitions, will also take place for the veterans, with the Mildura Settlers Cricket Club again serving as event headquarters. Former Australian Test bowler, Rodney Hogg, has also been announced as the ambassador for the event.
"The quality is going to be pretty good," Telfer said. "A lot of the players are still competing for local clubs, and some of the State teams will have former Grade and even former Sheffield Shield players.
"A lot of guys will be flying up, but the older divisions will bring their families and hang around for the Country Music Festival. That in turn should hopefully have a flow on effect for local businesses and services."
The Hoggies Estate Willowfest Veterans Cricket Championships will run from September 21 to 23 for the Over 50 division, and September 22 to 26 for the Over 60 & 70 divisions.
If you would like to become involved with this exciting new tournament from a volunteer point of view or Sponsor the event please feel free to contact Brian Kelly at admin@willowfest.com.au or Mobile: 0477 553 510.
Article by: Mitch Rodd – Journalist, Mildura Weekly