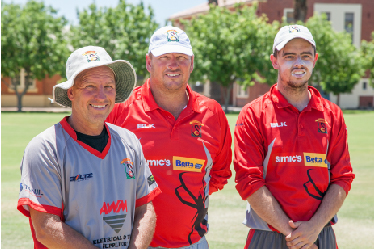 IT is like father, like son for the Tattersons at Willowfest.
About three decades on from his last appearance, Stratford Cricket Club president Neil Tatterson has returned to Willowfest as team manager of new Cup Grade team Stratford Redbacks, which is captained by his son Taylor.
Tatterson is the only member of the travelling Stratford Redbacks team, made up of players from Sale-Maffra Cricket Association, who has been to Willowfest previously.
"My son Taylor has been our club captain for the past couple of years but he's now playing in Melbourne this season," Tatterson said.
"You grow up with cricket carnivals when you're a country kid but you don't get them in the city, so when he was off to Melbourne, he said he'd organise this carnival week.
"This team is made up of probably half Stratford Cricket Club players and half from (other clubs in) the Sale-Maffra Cricket Association, just boys the same age – they're all about 20, 21-year-old friends, who came through the juniors together."
The team also features Tatterson's brother – Taylor's uncle – Andrew, who was visiting from Perth and decided to join the trip, and Stratford club secretary Sam Anstee.
"We expect there's a good chance they'll be back next year, especially with the age of the boys," Tatterson said.
Tatterson played for Maffra Eagles at Willowfest for four years in the late 1980s.
Back then, he played against the likes of Mildura East champion all-rounder Tom Vadlja, who went on to win a record seven Innes medals as Sunraysia cricket's best and fairest player.
"There was a bloke, a bit younger than me, but Tom Vadlja was a star player in my day, and he's still about I hear," Tatterson said.
"I played golf with him and he was good at that — and football, when I first played a cricket carnival with him, he'd kicked a ton the year before."
There are some handy cricketers in the Redbacks side, who made their Willowfest debut yesterday with a five-wicket win over Coomey Blues.
Left-arm spinner Jack Rietschel, who took 4/13 from six overs yesterday, off spinner Isaac Love (3/11), batsman Cormac Hassett and Jayden Allison all played for the Gippsland under 21 side that won the statewide Country Championships.
Longford's Keenan Hughes, who opened the bowling and claimed 1/6 from five overs, is another talented sportsman better known for his football.
Hughes is a product of the TAC Cup club Gippsland Power system and was on VFL club Casey Demons' playing list this year.
Andrew Brookes
Journalist